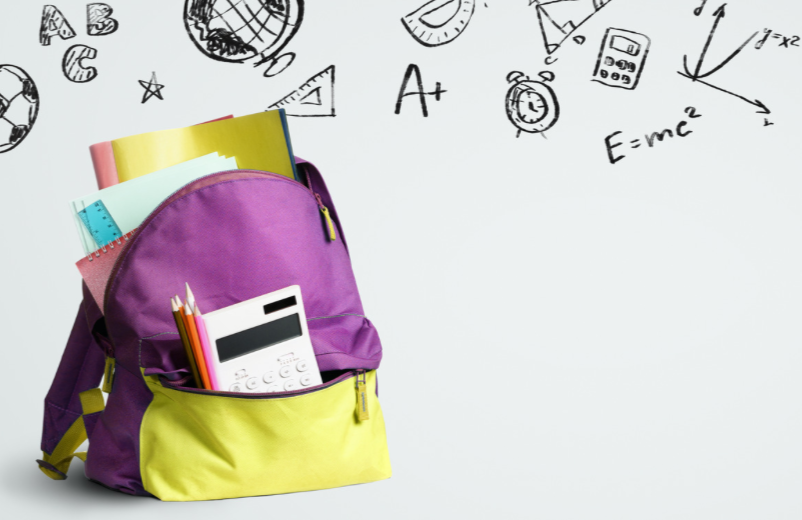 Back to school deals are popping up everywhere! Are you ready for it? The best advice this year for successful back to school shopping is to get it done early. Here are some more tips to help you save big on back to school shopping. Back to school shopping sales begin in early July and run through the end of August.
Not quite ready for the back to school buzz? Save this page & head over to Sharky's Summer Series for more summer fun!
Tax-Free Weekends are offered in most states, and hit at the perfect time for saving on school supplies, clothing & accessories, electronics, and more.
Set a budget, and stick to it. That's easier said than done, especially when prices are rising, and the "normal" cost for back to school items might be higher this year. Give yourself some extra wiggle room to accommodate for inflation. Basic school supplies are generally under $1 – composition notebooks for $.50, 12-pack Crayola markers for $.97, 10-Pack pens for $.98, washable liquid glue for $.25, and 2-packs of kids' scissors for $1. Don't forget to download online coupon apps like Ibotta, Shopkick & Fetch Rewards to get some cash back just for scanning your receipts, too.
Best bets for saving big on basic supplies: Staples, Target, Walmart, and Amazon
Bulk school supplies? It sounds daunting, but if you have a large family or purchase items collectively with other families to save money, this might be the way to go. Not only will you have cheap school supplies for this year, you'll likely not have to worry about purchasing for a few years – combating any additional price hikes in coming years, and giving yourself a little break.
Best best for buying school supplies in bulk: Oriental Trading Company, Discount School Supply
Head to Dollar Tree to find items that would normally cost a couple of dollars at big box retailers, for just $1.25. Plus you can use manufacturer coupons and instant rebate apps to help you save even more on the name brand items. And Five Below has super cheap items ($5 & below) that will run you more anywhere else – and might be perfect for your kids that need a little more personality with their school supply items.
Best items to purchase at Dollar Tree: clip boards, notebooks, calculators, Sharpie products, construction paper, poster board, locker organizers, binders, filler paper, and index cards.
Best items to purchase at Five Below: locker supplies & organization, backpacks, hair accessories, calculators, fun notebooks & pen, and binders.
Back to school season is a GREAT time to stock up on cleaning supplies! Kids and germs are besties in classrooms, and they bring them home. Watch for amazing discounts on hand sanitizers, liquid hand soaps, facial tissue, Lysol products, and general household cleaners. These are more items to consider purchasing in bulk, at their lowest prices, too.
Best bets for cleaning supplies: Amazon, Costco, Office Depot
If you're a senior, veteran or military member, teacher, healthcare worker or first responder, and if your kids are Girl Scouts or part of 4-H – you may be able to get discounts at many stores! As an example, teachers score 15% off at Michael's!  It never hurts to ask!
For ALL special discounts like these, check out the Discount Categories page!
More back to school tips:
What are YOUR best back to school shopping tips? Share in the comments so everyone can benefit!