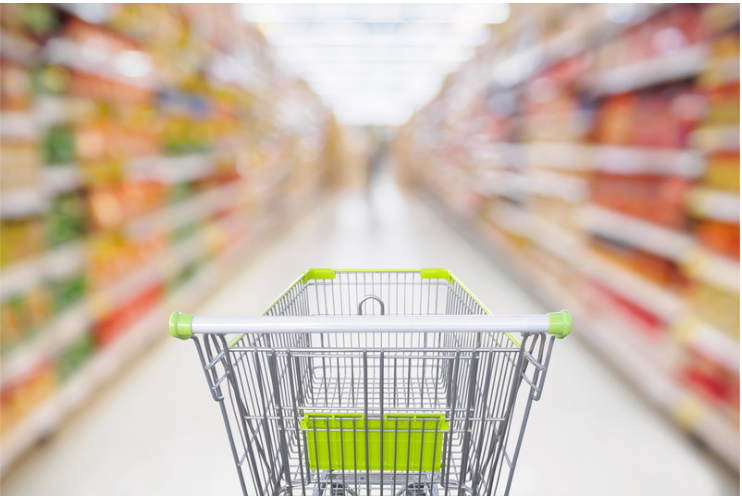 Need a better way to save money on groceries & household items? Read on!
Also check out 9 ways to save on gas with EASY apps!
From fresh produce to gasoline, and toothpaste to houses, prices are rising everywhere.  The days of printable coupons and "extreme" couponing seem to have slowed down quite a bit in the last 5 years. But it's 2022 – which means it's the year of the digital coupon! That's right, you can still coupon and save your family lots of money on groceries, household items, beauty and baby care and so much more. In fact, it's even easier now than it was with printable coupons!
All you need to save money on the items you need is your phone!  Here are some super simple steps to get you going on the right track, start saving you money, and even create stockpiles of household goods.
This is where you can view weekly ads, join their rewards programs, store your member information, AND get both manufacturer and digital coupons all in one, convenient place! Download your favorite drug store (CVS, Walgreens, etc.), grocery store (Kroger, Meijer, Albertsons, etc.), big box store (Walmart, Target, Costco, etc.), and discount store (Family Dollar and Dollar General) to start saving more each time you go shopping!
To get you started, here are some of Sharky's favorites:
Get ready for a goldmine of additional savings beyond digital coupons! These apps (yes, you can sign up for all of them) will offer different rebates, rewards, cash back, and perks just for shopping and purchasing items you're already planning to buy! Here are some of my favorites that have proven to pay out and be the easiest to use:
–Ibotta: Earn cash back on your purchases!
–Fetch: Upload your receipt to earn points and redeem for gift cards & other perks!
–Shopkick: Earn points for walking into stores, scanning items, and scanning your receipt!
–Coupons.com: Get cash back AND digital coupons now on the site! + $5 bonus with first cash back offer
–Checkout51: Similar to Ibotta, you'll find products you buy, then upload your receipt for cash back!
–Pogo: Link your debit/credit card, and get points for every purchase you make! Those points add up quickly, and all you do is click a "claim" button!
With prices on the rise, it's time to step outside of the box – or outside of your normal shopping habits. Don't discredit discount stores like Family Dollar and Dollar General!  In fact, now is the time to really take advantage of their digital coupon deals. Not only do they have really low prices on name brand items, they accept manufacturer coupons, and offer both manufacturer AND store coupons (which can be combined for more savings) on their apps. Even better, you'll score storewide savings like $5 off $25 purchase coupons, too!
Just because digital couponing is taking over doesn't mean you can't still clip and print paper coupons!  In fact, you can use them in addition to your digital store coupons.  Note that many apps offer BOTH store and some manufacturer coupons on their apps.  To save even more, go to company websites to find coupons, print coupons, and clip coupons from your Sunday paper.
If you were an extreme couponer back in the day, you know just how important that stockpile really is. When you run out of toothpaste, deodorant, shampoo, or laundry detergent, would you rather pay the skyrocketing price in store, or go to your stockpile where you paid the minimum amount for them? Stock up when you can, so you don't have to pay higher prices when you run out. You can also use this stockpile to help struggling neighbors and friends during these tough times.
One dollar here, $.50 there… it adds up, and with prices skyrocketing in the grocery and drug stores, why not save any way you can? Start digital couponing, and follow Sharky's favorite digital deals at major retailers each week!
Are you still couponing? Will you try digital couponing? What are your thoughts?