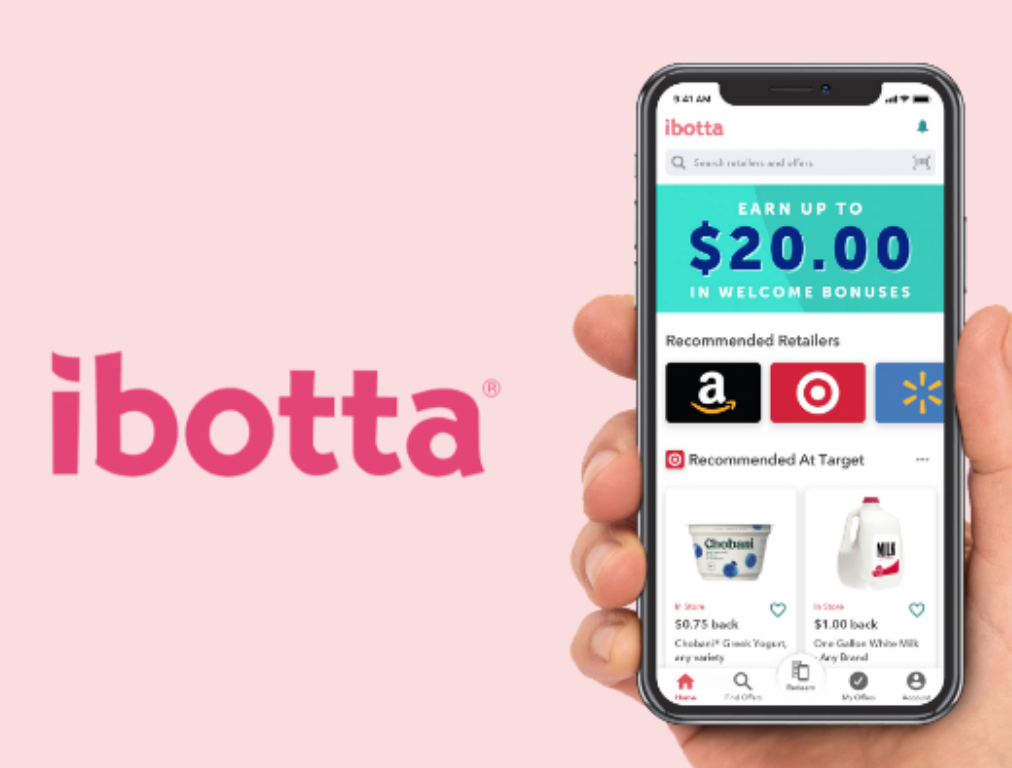 One of Sharky's favorite ways to save money on groceries, online orders, household essentials and much more, is Ibotta! This easy to use app is filled with quick and simple rebates for everything from fresh produce to streaming services, and Amazon purchases to diapers. Plus, they offer FREEBIES! The best part about Ibotta is that it's ridiculously quick and simple to use – you just need your phone and a few seconds to start saving money! Here's a quick guide to getting started on Ibotta:
SIGN UP & GET $10!
When you sign up with Ibotta and redeem your first offer, you'll score a sweet $10 to your account! Just like that! Plus, when you send your friends and family your referral link, you'll be able to give them $10 AND you'll receive an additional $10 for each new sign up that redeems at least 1 offer. Talk about easy money!
SHOP IN-STORE, CURBSIDE PICKUP & ONLINE
Whether you're picking up toiletries at the drug store, or placing an online order for grocery curbside pickup, you can use Ibotta to save! They even have a browser extension (Chrome & Firefox) to let you know when you are browsing a retailer that offers cash back. Connect your online grocery account to save even more time, so you don't have to upload your receipt.
SAVE MORE WITH BONUSES
As if saving $1 here and $.50 there didn't already add up quickly, Ibotta also offers another fun way to save more and earn more. Bonus offers will pop up frequently, giving you a chance to earn more cash back in your pocket. Examples of bonuses might be: Redeem 5 unique offers & get $5 cash back, Purchase 2 Kraft brand items & get $3 cash back, Purchase Softsoap 4 times & get $6 cash back, etc.
POINT, CLICK, SCAN, EARN!
When you're shopping for groceries at Walmart, toting 3 kids and a cart full of food in a crowded store, the last thing you want to do is scroll through an app to find cash back offers. With Ibotta, you can just point the in-app bar code scanner at a product, and if there's an offer, it will pop up! Click, "activate" and when you scan your receipt after shopping, you'll earn cash back. It's really that quick and easy.
FREEBIES & NEW OFFERS
Every week, you'll see new offers pop up on the app. Many offers stay for weeks at a time, while some have a shorter life span. Sharky's favorite offers are the freebies! Frequently, you'll see cash back offers on new and popular products that retailers want you to try – and you'll get the full price credited back to your Ibotta account after you purchase. That's a simple way to score some great freebies!
COMBINE COUPONS & OTHER REBATES
Here's one of the BEST things about using Ibotta – you can still use coupons to maximize your savings! Whether you print paper coupons, cut them from your Sunday paper, or use the digital coupons on the Coupons.com app, you'll be able to stack the savings and still earn the full Ibotta rebate amount. Even better, stack coupons, Ibotta rebates AND rebates from other cash back apps like Fetch and Shopkick for even MORE savings!
CASHING OUT EARNINGS
Once your account reaches $20 (that's just 2 friend referrals!), you can cash out! And yes, it's real cash sent to your bank or PayPal – OR you can opt to purchase gift cards. Plus, it doesn't take days or weeks to see your actual earnings. With Ibotta, you'll receive the money you transfer out of your account in less than an hour!
What are you waiting for? Start combating inflation and saving more for you and your family with Ibotta! Be sure to check out Sharky's weekly favorite digital deals and freebies that include Ibotta offers.