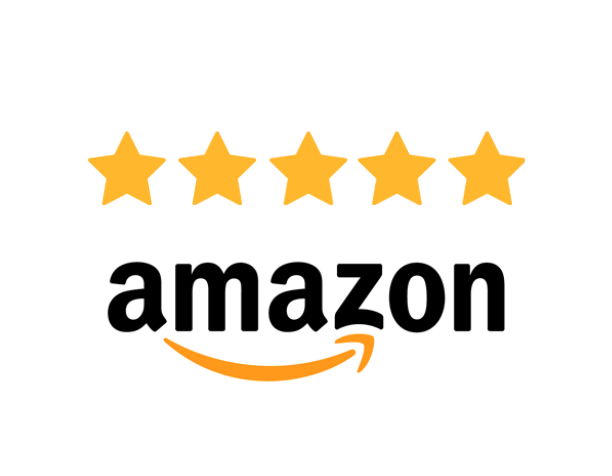 Amazon has some great products-  we all know that!  But how do you know which is the best product in a category, without spending hours researching and reading reviews?  One way is to checkout Amazon's Best Sellers list!  These are the top-selling products that are updated hourly, so you can always be in the know. Another way is to let Sharky do the work for you!  Each of these suggested products has at least 500 reviews, and a 4.5 or higher star rating.
4.8/5 star rating from 1,905 reviewers
90% gave it five stars
5-Star Review:
"I liked the look of this happy, red-nosed reindeer doormat. Thick, well made and affordable. It lays on my red brick front porch, right below a brass plate that lines the bottom of the black shiny door. So many folks enter my home with a giggle. " 
4.7/5 star rating from 10,336 reviewers
83% gave it five stars
5-Star Review:
"Beautiful ornaments! These look like glass but have the durability of plastic. Blended in well with my other ornaments and I received many compliments on them. Withstood my two dogs and their wagging tails and lived up to their shatterproof claims."
4.7/5 star rating from 12,818 reviewers
80% gave it five stars
5-Star Review:
"EDIT: It's been three years since I bought this tree and I still love it just as much as I did the first year I put it up. This tree is easy to take down and store away. It's just as easy to put up and fluff. Still looks just as full as the first day I put it up. I really can't brag enough about the quality of this tree! I point any and everyone that mentions looking to buy an artificial tree, to this one! I promise, for the price, you really can't beat it! 😍🎄" 
4.8/5 star rating from 1,672 reviewers
86% gave it five stars
5-Star Review:
"
I'm absolutely in love with these stockings! They are beautifully made, the price is amazing and I can't wait to hang them up for the Christmas season! I added these sweet name tags to them and they couldn't be more perfect! The seller sent a gift and a note that were the perfect touch! I've already recommended this product to others.
" 
4.6/5 star rating from 3,980 reviewers
78% gave it five stars
5-Star Review:
"
I wanted something nice but understated to top my Christmas tree and looked and looked and almost gave up before finding this. Pretty much all the stars and angel tree toppers you find are incredibly gaudy, gold and glittery and over the top obnoxious. If you want something simple yet elegant that looks natural on top of the tree, I highly recommend this star. It has also lasted for several years now.
" 
4.8/5 star rating from 2,326 reviewers
87% gave it five stars
5-Star Review:
"
I just received this one today and think he's going to be my favorite. His hat is velvety soft and matching cuffs are adorable. His beard has a splash of gray and under his beard he has a tiny pocket that is big enough to hold a ring to gift…how perfect! The little heart on his hat adds a sweet touch. I think I need to buy another one….
" 
4.9/5 star rating from 16,874 reviewers
95% gave it five stars
5-Star Review:
"The pieces are well-made, cute and sturdy, and with bright colors and metallic accents. The fence pieces snap nicely into place on the stable itself or can stand alone, and the cart fixes nicely to the donkey's back. The angel can either stand alone or perch atop the stable, and there's even a button to make the star above the manger light up and play a verse from "Away In a Manger."

4.6/5 star rating from 1,924 reviewers
79% gave it five stars
5-Star Review:
" I'm surprised by how much I like these! The different light patterns is a huge bonus, but my favorite is being able to hook another set up… "