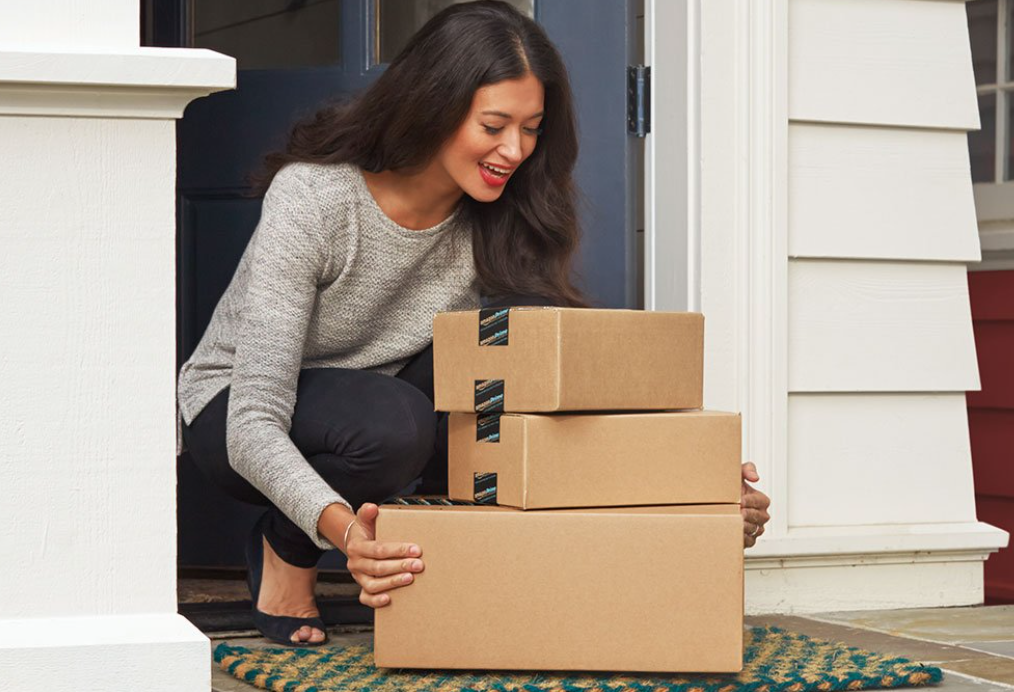 The benefits for Amazon Prime member go far beyond just that famous free 2-day shipping. But if you don't shop that often, you don't really need a Prime membership, right?  You may just be surprised at the amazing perks that come along with your membership!  Do you love new music?  Enjoy streaming movies & tv shows?  Do you run out of photo storage on your iPhone?  You need Amazon Prime!
The famous free 2-day shipping
Probably the most obvious tip in reaping the benefits for Amazon Prime Members is to become a Prime member!  Now that you've done that, you just scored yourself that legendary free 2-day shipping!  And if you live in some areas, you'll be offered Free One-Day shipping or even Same Day shipping! Want it, buy it, get it, done.
If you don't really need your item in a rush, choose no-rush delivery.  This might just get you an additional discount on your order, or reward, like $5 digital credit to use later!
Save on your Prime membership!
Let's say you only shop Prime Day and Black Friday.  You also only use your Prime membership in July (usually when Prime Day is) and November.  Why would you pay $119 for only 2 months worth of Prime? If you're really not using the benefits for Amazon Prime members, then switch to a monthly Prime subscription.
Monthly Prime is only $12.99 per month.  That's a great price for those only needing Prime on occasion.  Plus, you can cancel and start up whenever you're ready to use it again.
Students can score Amazon Student for only $6.49/month or $59/year.
Medicaid or EBT users can get Amazon Prime for $5.99/month.
And, don't forget that if you just want that Prime membership for a specific event (Prime Day, Black Friday or Cyber Monday), you can always just grab the free 30-day trial (although note that you'll only cover either Prime Day OR the holiday sales).
Unlimited photo storage
Get UNLIMITED photo storage with Amazon Photos!  Seriously! You can even share your storage with up to 5 people! You'll also get 5GB of video and document storage with your Prime membership, too.  Think about it – for 50 GB on the Apple iCloud, you'll pay $.99/month.  For 2TB, it's $9.99/month. That's up to $119 per year for 2TB of storage, which is the regular cost of an annual Amazon Prime membership, and you aren't getting the other benefits!
Plus, there are other perks with Amazon Photos.  Get discounts on prints and photo gifts, connect your photos with your Fire TV, and more!
Sharing is caring
Prime Household lets you share your Prime benefits with your family members across different accounts.  Pretty cool, right? Connect up to 2 adults, 4 teenagers and 4 kids on your account. That's 10 additional family members that you can add, and each will receive the benefits you do!  For a complete explanation and list of shared benefits, check out Prime Household.
Lightning strikes Prime members first!
Lightning Deals are quick promotions for a limited number of discounts offered on an item for a short period of time. If a Lightning Deal will allow early access, you'll be able to add it to your cart – but that's only for Prime members!  And since these deals go QUICKLY, it's your best bet at grabbing them.
Free Kindle book monthly 
Calling all readers!  The Amazon First Reads Program gives you early access to top-rated books every month for only $1.99. But Prime members score those books for FREE!  Some months, you'll even be offered TWO freebies.
Prime Originals TV shows & movies
Isn't it annoying when your friends that have already taken advantage of the benefits for Amazon Prime members, talk to you about an Amazon show?  If you don't have Prime, you don't have access!  With your awesome membership, you'll be able to stream movies and TV shows for FREE, including Amazon Originals (those cool shows friends chat about) that you can't watch anywhere else.
Amazon Music – 2 million songs!
Amazon Music scores you up to 2 million songs with NO COMMERCIALS!  Plus, you'll have access to 2,000 playlists.  You can even listen to them offline. Yep, just another perk of being Prime members.  We told you the benefits for Amazon Prime members got you some cool stuff!
You may also want Amazon Music Unlimited.  Because if 2 million songs isn't enough for you, you can get 50 million songs for $3.99/month if you have an Echo, Echo Dot, or Amazon Tap. Otherwise it's just $7.99/month. But FYI – they are always running promos to score your first month for $.99, so jump on that!
Amazon Family for the win!
Babies are expensive! With Amazon Family, you'll score coupons and great offers to help you reduce the costs for your little bundles of joy. Even more, you'll get 20% off subscription orders for diapers, wipes, baby food and more. AND you'll get a 15% off baby registration completion discount, too!
Safer delivery options
If you're a little sketchy about having Amazon drivers leave packages on your doorstep, this is for you! Avoid porch pirates by having your orders delivered to an Amazon Locker. That way, you can pick it up on your way home from work, without worrying about it being stolen.  Plus, you can use the lockers for returns, as well!
For info about Key Deliveries, read up HERE!
You can also use the Amazon Key App to have the drivers drop packages off in your home or car.
GAMERS!  Get Prime Gaming!
Prime Gaming gives gamers instant access to lots of fun exclusive content.  You'll get free PC games for free, every month, too!  And for Twitch users (the website for broadcasting video games), you'll get access to Twitch Prime by connecting your Amazon Prime account! That comes with its own set of fun freebies and bonuses.
Prime wardrobe at your service
Did you ever think you'd use your Amazon Prime membership to help you pick an outfit!?  With Prime Wardrobe, you get to pick 3-8 pieces of clothing, and only pay for what you keep!  It's try before you buy, Amazon style. Plus, it offers free and easy returns!
Even more, Outfit Compare is on the Amazon app, and is free for Prime members!  Take 2 photos of different outfits, and upload them. A fashion specialist will check you out, and give you their opinion about which outfit suits you, your style, your event, and current fashion trends.
Gift cards all around!
With Amazon Trade-In, you can send Amazon devices, video games, books, electronics and more.  In return, you'll score gift cards for your trade. Shipping your items is even free!
Another great gift card deal is to reload! Prime members earn 2% credit when you reload your gift card using a debit card or your checking account.
But wait, there's more!
Kohl's stores take Amazon returns!
5% cashback  on Amazon or Whole Foods with an Amazon Credit Card
10% off Whole Foods in-store on select (marked) items
Check out even more Amazon Prime perks you won't want to miss!  Take advantage of that FREE 30-day Amazon Prime Membership trial if you don't already have a membership. If you don't think you'll use the benefits for Amazon Prime members… think again!