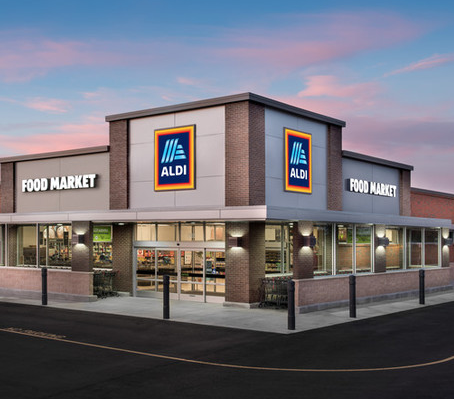 For those of you who aren't familiar, ALDI is a chain of grocery stores that many FreebieSharkers (including myself) are a big fan of. ALDI shoppers rave about the healthier organic options, award-winning wines, and just overall great quality and low prices. If you are new to ALDI, you'll want to read my How to Shop at ALDI article that I wrote a few years back.
Here are some of my favorite ALDI shopping tips:
Find an empty box while shopping. As you know, ALDI cashiers do not bag your groceries for you. However, if you find an empty box on the shelves while shopping, I recommend you place it in your cart. When it's time to checkout, cashiers usually will place your groceries in the box as they are rung up. That way, you are able to just walk out with the groceries all together!
Bring some bags with you. I personally bring reusable shopping bags and leave them in my trunk to avoid purchasing bags at ALDI if I need bags.
Don't forget. No coupons. ALDI doesn't take coupons whatsoever, so no need to worry about coupon clipping… and you still get really great deals.
Check the fresh meat section red stickers. When ALDI has meat nearing expiration and wants to move it quickly, they'll throw big red stickers on the meat packages. These stickers will vary from $1 off to $4 off. I personally love looking for these discounts and will buy all the discounted meat I can get. I throw them in the freezer for future use!
Wednesday meat special. Each Wednesday, ALDI features a weekly fresh meat special for you to take advantage of. I recommend going during the morning hours if the deal is really great to avoid missing out.
Always browse the weekly Aldi Finds. The Aldi Finds aisles usually contain a variety of non-grocery products and vary each week. Don't overlook this section. There's a ton of hidden gems! However, don't wait, because the hot buys each week usually run out fast and they do not restock once they are sold out.
Look for clearance in Aldi Finds section. Whatever doesn't sell from the previous week usually goes on clearance in the Aldi Finds section.
Look online for product reviews for Aldi Finds. I am a fan of browsing the ALDI Subreddit on Reddit for product reviews. Check it out every now and then to see what fellow shoppers are saying about Aldi Finds and grocery purchases.
Best deal on wine you'll ever find. ALDI's Winking Owl Wine brand has won awards…and not to mention, it'll run you about only $3 per bottle.
Browse weekly ad early. ALDI's website allows you to browse their weekly ad one week ahead of time. You can also sometimes find the following week's weekly ad in-store near the exit. Browse it ahead of time to know what items you should buy the next week to maximize your savings.
Download the ALDI app. The ALDI app allows you to browse the weekly sales. It also allows you to build a shopping list so you don't forget a thing while doing your shopping.
Follow ALDI on social media. I love following ALDI on Facebook and Instagram to give me recipe inspiration. They also post about Aldi Finds to make sure you're not missing out on anything great each week.
ALDI has a Double Guarantee. If you're not satisfied with a product you've purchased at ALDI, not only will they refund it, but they will ALSO replace it with their Double Guarantee!
Do you have any other ALDI tips? What are your favorite items to buy at ALDI?