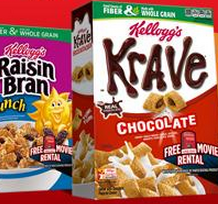 Target shoppers — as I mentioned a few days ago, Target is offering a FREE $5 gift card when you purchase 5 participating Kellogg's products. Here's how you can take advantage of this deal to snag various Kellogg's cereals for just $1 per box.
Buy 2 Kellogg's Frosted Mini Wheats, 2 Froot Loops, & 1 Krave Cereal – $2.50 Each
Use this $1/2 Frosted Mini-Wheats Coupon
Use (2) of these $.50/1 Fruit Loops Cereal Coupons
And, use this $.50/1 Krave Cereal Coupon
Pay $10, Get Back a FREE $5 Gift Card
Final Cost: $5 after gift card — just $1 each!