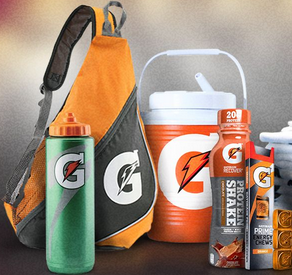 Gatorade just launched a super HOT giveaway! Now through March 31st 2016, you can enter this Gatorade Sweat with the Best Instant Win Game for your chance at winning 1 of ONE MILLION prizes! Prizes include FREE Gatorade Products, Towels, Bottles, Coolers, Hats, and more! Codes can be found on select products. You can enter up to five times per day.
To obtain an entry code without making a purchase: send a 3" x 5" card with your complete name and address and email address to: Gatorade Free Access Code, P.O. Box 760017, Dept. 838- 703, El Paso, TX 88576-0017. Requests must be received by March 24, 2016. Access Code will be emailed. Limit one (1) request per outer-mailing envelope.
➡ Plus, stop by our sweepstakes section for a BIG list of Instant Win Games & Sweepstakes!