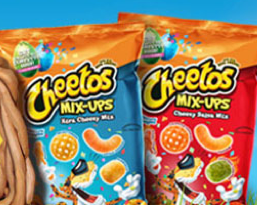 Enter the Cheetos Egg Hunt Instant Win Game for a chance at winning 1 of 740 great prizes! Free codes available at the moment are FBNx6vi10, TWCx2ba12, SKCxx43n4, TWCx7al27, TWSx1vn89, DRTx0mp52, DRTx5rx37, BNSx89zk3, TWSx6ga18, BNSx19mr5, FBSx1jk07, BNSx74jr4, PEPxf62v4, and BNSx33xy7. They'll be releasing more codes on their Facebook page. Prizes up for grabs include free product coupons, gift cards, movie tickets, and more. Good Luck!
(Thanks, Denise, Dani, Kayla, & Candace!)
➡ Plus, stop by our sweepstakes section for a BIG list of Instant Win Games & Sweepstakes!