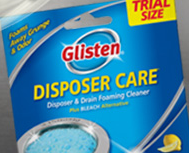 Hurry over to Facebook to request a FREE Sample of Glisten Lemon-Scented Disposer Care! Only 10,000 samples are available, so don't wait to request yours. Allow 4 to 6 weeks for delivery!
(Thanks, Michele & Angela!)
Don't forget to sign up for FREE Hot Offer Text Alerts so you never miss a hot offer!